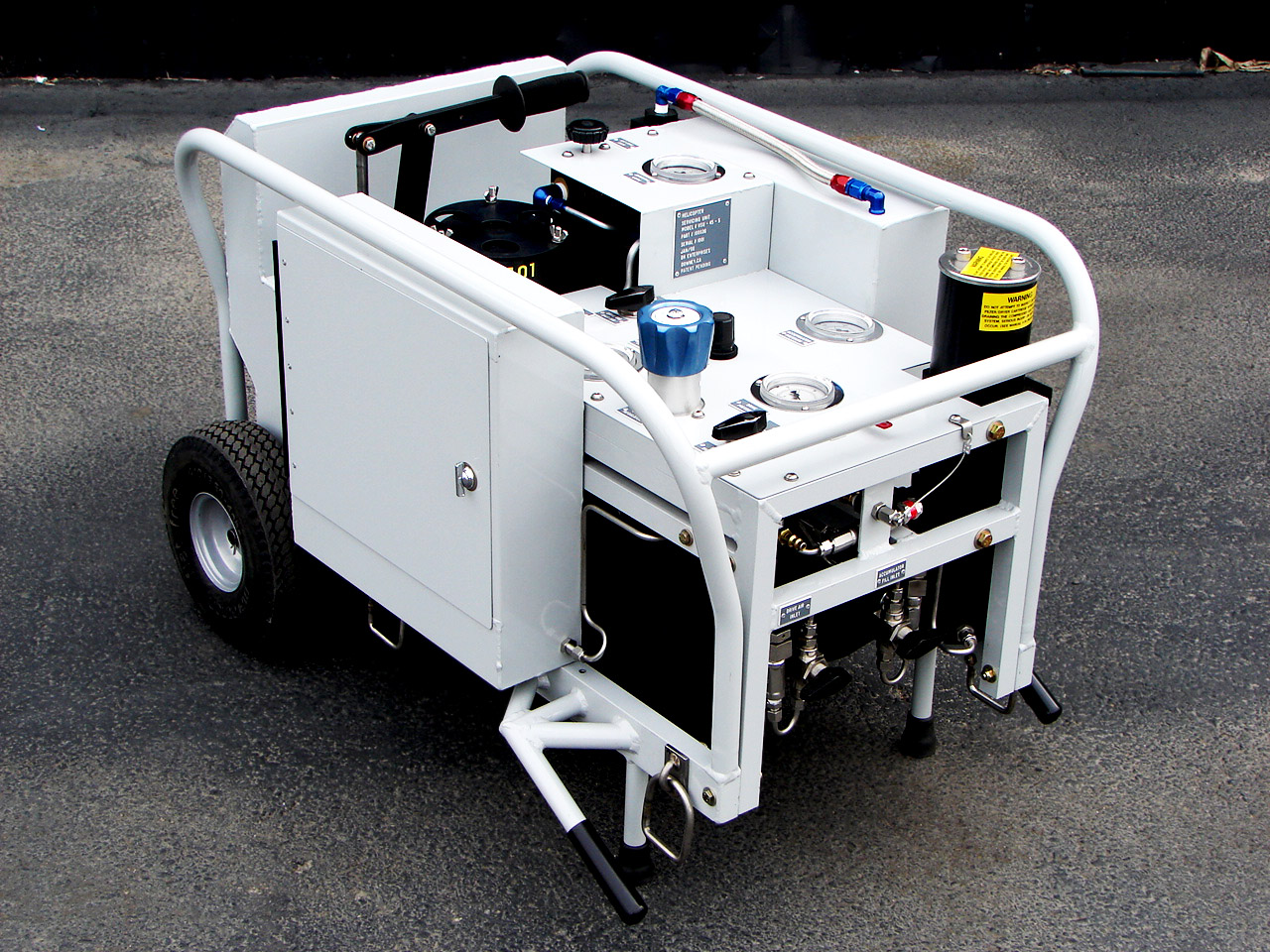 General Information
The Helicopter Servicing Unit is a small, lightweight source of nitrogen gas, as well as low and high pressure hydraulic fluid. The nitrogen gas and hydraulic fluid are used for servicing tires, struts, accumulators, hydraulic reservoirs and rotor heads, as well as many other nitrogen and hydraulic needs.
The standard cart is equipped with both high pressure (0-3600 psig), and low pressure (0-300 psig), nitrogen servicing systems. Each system has a service gauge, regulator, and uses a common service hose. The Helicopter Servicing Unit comes standard with two 4500 psi nitrogen receivers.
The nitrogen system includes a Booster System, Self-Fill system, and Air Drive system. The Booster System uses an air-driven gas booster, which uses gas from the receivers to boost the nitrogen gas to high pressure.
Even with receiver pressures as low as 300 psig, the cart can still deliver high pressure gas to 3600 psig.
Our patent pending Self-Fill allows filling of the on-board receivers, from a low or high pressure nitrogen source, using the booster to do the work.
The Air-Drive system allows the booster to be driven from an external low pressure air source, which conserves the nitrogen in the receivers.
The Hydraulic system consists of a 4 gallon reservoir and two hydraulic hand-pumps, one for low pressure servicing (0-60 psig), and one for high pressure servicing (0-3000 psig).
Both systems feed a common hydraulic servicing hose.
As with all our equipment, the HSU is designed for ease of maintenance, operation and a long, trouble-free service life. Several patents are pending relating to this equipment.
If you are interested in purchasing this product, please contact us.