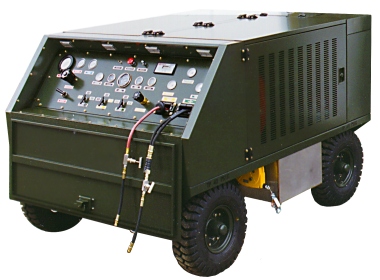 High Pressure Air Charge Cart
The High Pressure Air Charger is a self-contained, towable pneumatic test stand. This portable unit provides a means of charging both the high pressure and fuel receivers for the IDF Fighter EPU system and other similar systems.
The High Pressure Air Charger consists principally of a high pressure gas booster which supplies clean, dry, high pressure air at the desired pressure. In addition, a fuel supply tank and waste tank can refill or drain the onboard EPU fuel receiver.
In addition to the gas booster and prime mover, the High Pressure Air Charger consists of an air drying and filtering system, purity monitoring and safety system, and control panel with the appropriate instrumentation for the unit to accomplish itís designed task.
Auxiliary equipment includes: supply hose and adapters
If you are interested in purchasing this product, please contact us.